Riley Buehler and Greta Halvorson created Sustainable Silverware to be part of the solution to an uptick in takeout waste. "Since COVID, we both have seen an increase in waste from plastic utensils and single-use containers, especially with more people ordering takeout food because their favorite restaurants are closed [for dine in]," the two shared in an email.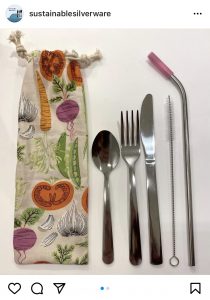 The $10 Sustainable Silverware set includes a metal fork, spoon, knife, straw, and straw brush inside a hand-sewn carrying case. "We wanted to create a set that you could take everywhere with you and feel good about using reusable products." Customers keep them in their cars or purses--similar to the ways they stow Reusable Shopping Bags.
Orders for Sustainable Silverware sets have increased so much that a couple patterns have sold out. They deliver locally or ship them (for an additional cost). Order a Sustainable Silverware set here.
To further their impact, Buehler and Halvorson chose to donate all profits to Surfrider Foundation Portland Chapter. "We also wanted to give back to the community and Surfrider's mission statement aligned with our personal goals with Sustainable Silverware, so we decided to donate all of our profits to a foundation where real change is made."
With a number of plastic pollution bills being introduced in this state legislative session, including a Comprehensive Foodware Policy aimed at reducing single use plastics, Buehler and Halvorson expressed interest in furthering their civic engagement by virtually rallying their peers to support the bills. Read more about the Oregon 2021 Plastic Pollution Legislative Priorities.
Using reusables helps keep single-use plastics out of the ocean. Reusables are just as safe, if not safer than using a pesky plastic fork for mere minutes and then it sticking around in the environment for decades! To make the entire takeout experience zero-waste, become a GO Box member to utilize reusable takeout containers. See how one of our Ocean Friendly Restaurants is all aboard the sustainability ship.
Follow along on Sustainable Silverware's journey on Instagram.