Written by Dana Barnett, Edited by Jess Gilligan
Many of us sit at home after work in the evening yearning to get out to a favorite restaurant or bar, missing the vibe, the music, the taste, and the company. In the pandemic setting, with social distancing measures in place, limited capacity indoors and out, has left many restaurants and bars struggling. Restaurants have creatively adapted to survive. Adaptations may include expanding a takeout menu, increasing sales of merchandise, and ordering services through their websites. Most recently, the opportunity to sell wine and cocktails to-go has been another option to increase revenue.
With the passing of temporary rule SB 1801 by the Oregon Legislature at the end of December, 2020, restaurants and bars, who were already licensed with full On-Premises Sales, are now allowed to sell mixed drinks and wine as to-go items. There are limitations in the size of cocktail and the packaging in which it is sold. Additionally, one substantial food item must be sold along with up to two drinks. For more information, check out this infographic.
[gallery size="large" ids="4291,4292,4293"]
As we all know, the sale of to-go items has risen dramatically during the pandemic, a savior for many restaurants. Meeting the demand for off-site dining, restaurants have heavily relied on digital ordering, delivery and carry out. According to the NDP Group, a market research organization, "restaurant digital order increased by +19% in January of last year to +145% in December compared to year ago." As far as delivery goes, according to NDP, "even though carry-out and drive-thru have eight times more order volume, delivery services began 2020 with orders up by +1% and ended the year with a triple-digit gain of +137% in orders compared to year ago."
Naturally, an increase in carry out, delivery, and drive through means an increase in the use of to-go food containers, condiments, and utensils. The increase in single-use foodware (many of which are plastic or contain plastic), is contributing significantly to global pollution. "Researchers estimate that there are now more than 5.25 trillion pieces of plastic in the ocean with 8.75 million metric tons added every year. Plastic pollution on our beaches overwhelmingly comes from products that we only use for a few minutes before they are discarded and make their way into the environment, where they never biodegrade. If we continue down this path of single-use plastic addiction, it is expected that there will be more plastic than fish, by weight, in the ocean by 2050."
The good news is there are restaurants out there keeping the environment in mind when making packaging choices! With the passing of rule SB 1801, we were curious how the rule has affected businesses and also how they chose their to-go drink containers.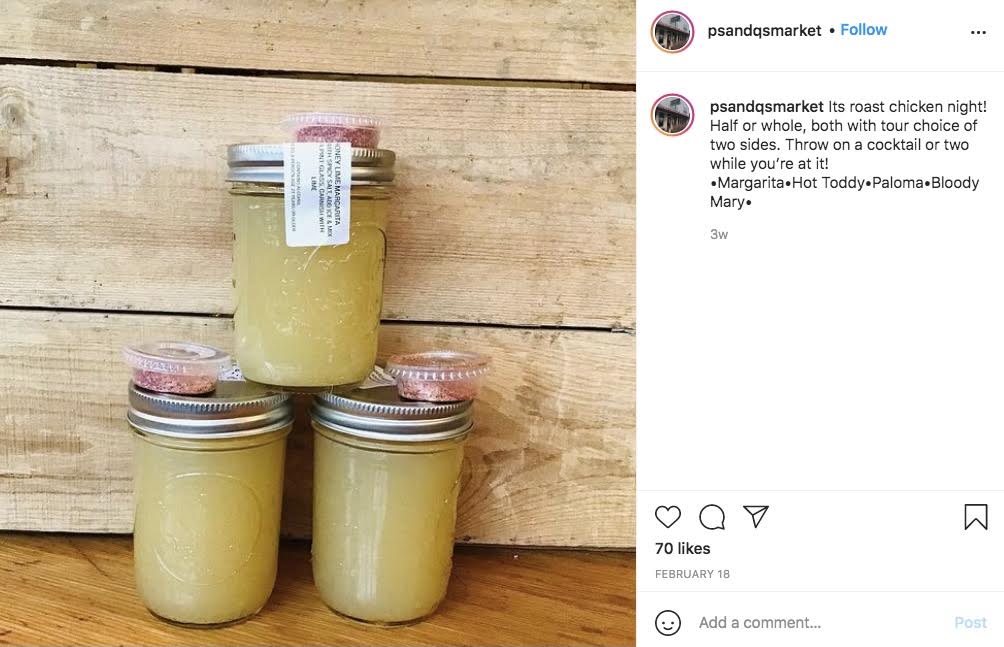 We spoke with P's and Q's Market, a local grocer and restaurant offering tasty treats and bike delivery. For cocktails to-go, they're using Mason Jars. Folks can bring the jars back for a $1 refund, however the restaurant noticed only about a 50% return rate so far.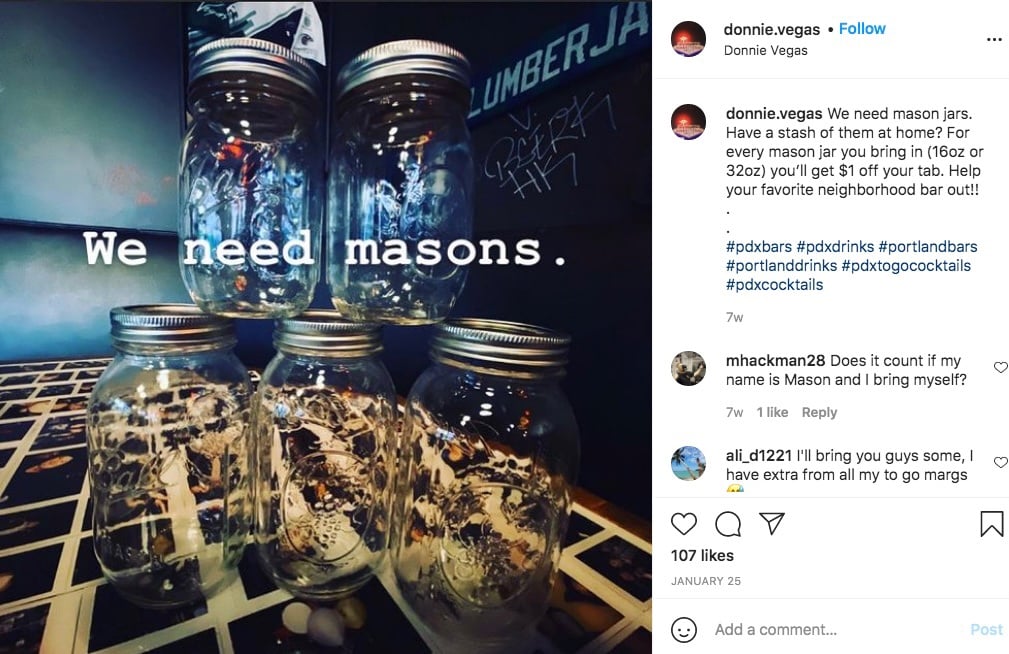 We also spoke with manager Ted and owner Benjamin at Donnie Vegas, bar and hot dog restaurant. They note that their business model had included beer and wine to-go prior to the pandemic. Now, with the added option to sell cocktails, they feel this has helped their business somewhat, but not as much as they had hoped, noting "most bars are drinking and socializing establishments - customers come in for an experience. In my opinion to-go cocktails doesn't quite translate, but at the same time, every little bit helps during this difficult time."
When the pandemic started and they realized that the restaurant model had to change, they purchased pallets of mason jars. This has been their choice vessel for selling to-go cocktails. Customers purchase the mason jar with their drink and they can bring them back as a trade, and therefore not needing to buy another jar again.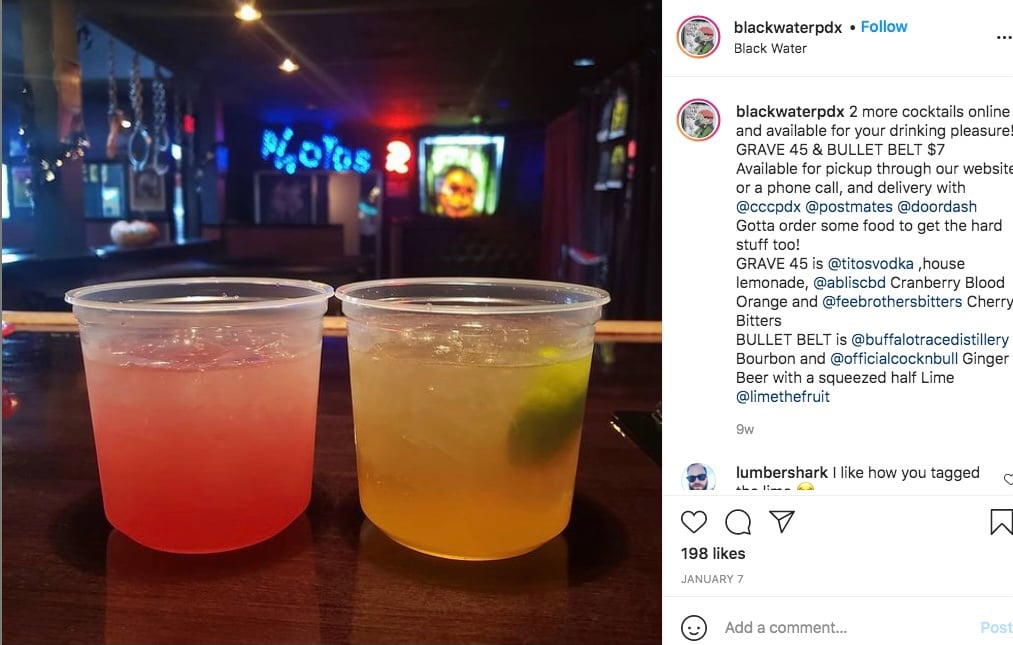 Down the road, we checked in with Black Water, a locally owned and operated live music venue, vegan/vegetarian restaurant and full service bar. We spoke with bar manager Keith, who noted that of his to-go food orders, about 5-10% contain a cocktail. This is a lower return than they expected when SB1801 went into place, but it does give their business a little boost. For to-go food items, Black Water works with Dart Container Corporation, particularly purchasing their plant-based biodegradable options for food items. For their cocktails however, they would have loved to be a part of a sustainable, reusable system with mason jars, but with the significant shortage of the jars, Black Water has opted for a plastic alternative--actually a plastic soup container because they're easily sealed and labeled. It's thought that a nationwide shortage of mason jars is attributed to folks staying home and canning their own foods.
Drew and Ryan, operations managers of the Fremont location of Fire on the Mountain, a favorite Buffalo Wing restaurant, focused on spicy sauces and crispy wings took a moment to speak with us. Cocktails are offered only at the Fremont location. There are 5 staple cocktails and rotating specials. As for impact on their business, to-go alcoholic beverages went from 1% of all sales pre-pandemic, to 3-4% with SB1801 in place.
The staff at Fire on the Mountain keep their impact on the environment in mind. Initially, Fremont started selling drinks to-go in mason jars with lids, a supply they traditionally maintained, due to their established use for signature sauces. However due to the shortage, this quickly wasn't an option anymore. Now they're using plastic bottles and lids made from recycled plastic. For their to-go packaging, they work mostly with Sysco, choosing cardboard boxes, paper bags, and "Greenware" to go cups and side sauce containers.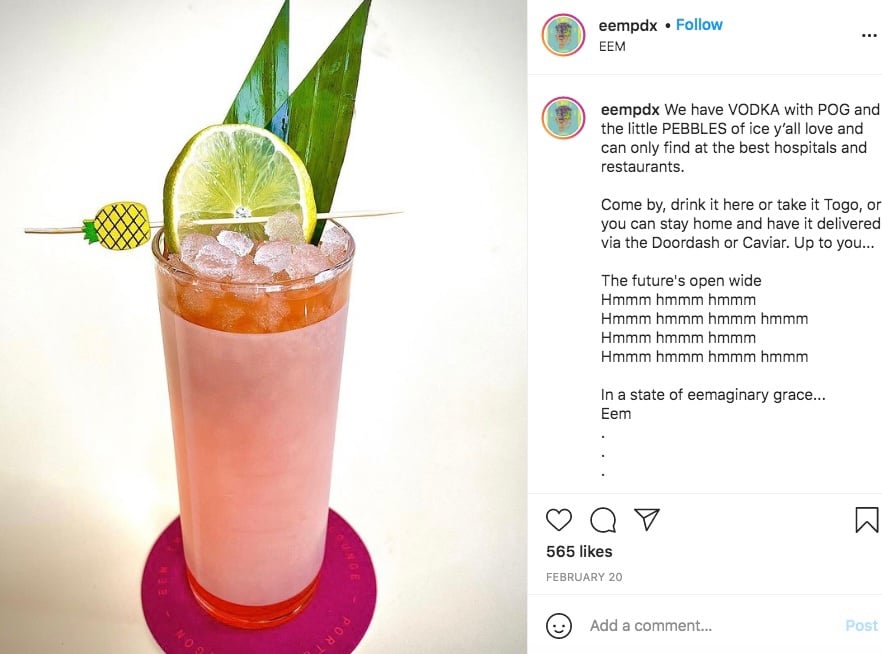 We also spoke with Sam Kontney at Eem Portland. Eem is a hip Thai BBQ and cocktail restaurant known for some of its exotic cocktails and delicious food. Once SB1801 passed, the restaurant jumped on the opportunity to sell drinks to-go, along with their food. As it turns out, Sam estimates that of all to-go sales, a to-go cocktail or wine is included in about 30% of those sales. The decision on a vessel that meets the rules of SB 1801, but also remaining environmentally sustainable, came with some weight.
Eem works with Good Start Packaging, a company prioritizing environmentally sustainable materials. For drinks requiring a seal, recyclable plastic is perhaps the most logical choice. Good Start Packaging supplies bottles made from PET. Polyethylene terephthalate (PET) is a plastic resin and the most common type of polyester. Two monomers—modified ethylene glycol and purified terephthalic acid—are combined to form the polymer called polyethylene terephthalate. While it is not reusable, compostable or biodegradable, it is recyclable #1.
Overall, restaurants and bars have been forced to be flexible, business-savvy, and creative during this pandemic. While many restaurants and bars seek more sustainable options for food and drink containers, there are limited options for reusable at this time. The few eateries using reusable containers such as mason jars face their own challenges, like the supply shortage. We applaud our interviewees for getting through this tough time, and look forward to helping with more sustainable options in the future.
The Surfrider Foundation Portland Chapter aims to help restaurants find and transition to ocean-friendly solutions. Stay tuned for exciting Ocean Friendly Restaurant updates and checkout our FOODWARE GUIDE in the meantime.